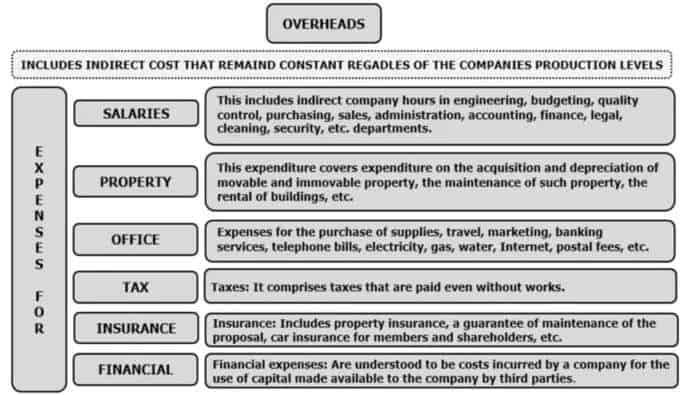 How to Calculate Overhead Costs with Examples in Construction Projects.
A comprehensive guide to determining the overhead costs of construction and industrial assembly companies.
Table of contents
How to Estimate Construction Overhead Costs Examples
Time needed: 5 minutes.
Overhead refers to current business costs that are not directly related to the execution of an industrial building or assembly project. Identifying overhead costs is not only important for budgetary purposes, but also to determine how much a company should charge for the overhead of its new projects in order to achieve a profit.
Examples of Overhead
All technical, admin and maintenance staff salaries (not construction projects) – Overhead Costs Examples

Examples: this includes the company's indirect hours of engineering, budgeting, quality control, purchasing, sales, administration, accounting, finance, legal, cleaning, security, etc., departments

Expenditures related to movable and immovable property (not construction projects) – Overhead Costs Examples

Movable and immovable property expenses (no construction projects)

Examples: this expenditure covers the acquisition and amortization of movable and immovable property, the maintenance of such property, the leasing of buildings, etc.

Office expenditures (no construction project) – Overhead Costs Examples

Examples: expenses for the purchase of supplies, travel, marketing, banking, phone bills, electricity, gas, water, internet, postage, etc.

Tax, insurance, and financial costs (no construction projects) – Overhead Costs Examples

Taxes: It includes taxes that are paid even without work.

Insurance, Examples: Includes property insurance, proposal maintenance coverage, car insurance for members and shareholders, etc.

Financial costs, Examples: Financial expenses are defined as the costs incurred by a company for the use of capital provided to it by third parties.
FAQ
1 – How can we best calculate indirect costs in our small construction business? 
First of all, on the basis of the 4 elements listed above, we can make a full list of our general expenditures. 
Then, each expense or its proportional portion is added over a period of time. The resulting total represents the general expenses of our company for this period
2 – What is the percentage of a construction company's overhead over a certain period? – Overhead Costs Examples
To obtain the percentage of overhead, divide the above total of total sales for this period and multiply by 100. 
The overhead cost formula is:
[Total overhead over a period / Total sales over the same period]*100 = Percentage of overhead
This percentage represents what the estimator uses to assign overhead to the new budgets. 
Just for reference: My company's overhead always varied from 15% to 10% of sales

3 – What is the best approach to reduce overhead – Overhead Costs Examples
Overhead is held to a reasonably low level when common sense is applied. 
Uncontrolled overhead may bankrupt a company.
There is a need to reduce overhead to what is strictly required. 
Examples, it is not advisable for a company to risk investing in a large office in the most expensive sector of the city for the start of its activities without a sales agreement in view. 
It is advised at the beginning of any business to be careful with overhead until income justifies a greater investment. 
Some businesses take the risk of reducing the amount allocated to overhead in a budget in order to present a more competitive bid.
Related Links
Read the following article Types of insurance in construction projects
How to Estimate Construction Overhead Costs Examples – Calculate Man Hours